BING CROSBY STAKES

The "Bing Crosby Stakes" is a yearly horseracing event held at the Del Mar racecourse in California, USA for three year-old horses and older run over a distance of ¾ mile (6 furlongs). Bing was a founding partner in the racecourse property.

The "Bing Crosby Stakes" were first run in 1946 when the dead-heat winners were "War Allies" and "Indian Watch". The most recent 2019 winner was "Cistron".  

Amongst the other 73 past winners of the "Bing Crosby Stakes" were "Olympic Prospect" and "Christmas Boy" horses co-owned by Frank Sinatra!
  
"Where the Turf meets the Surf"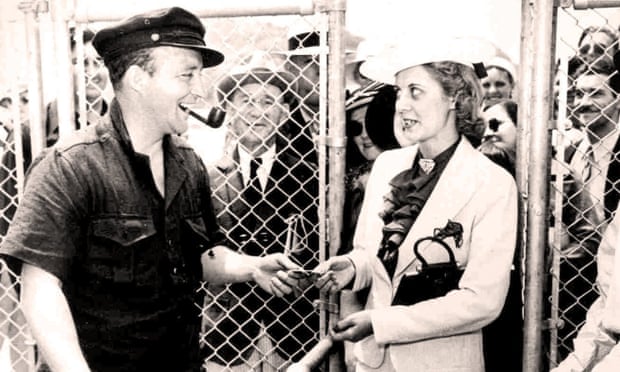 Bing Crosby greets Del Mar's first patron, Mrs W.R. Richardson, on the venue's opening day on 3rd July 1937.
(Photograph: Del Mar Thoroughbred Club)

Bing Crosby sings "Where The Turf Meets The Surf" to promote the Del Mar Turf Club, near San Diego. Bing was a part-owner of Del Mar. The song was written by Johnny Burke, James Vincent Monaco and Bing and it was recorded in Los Angeles with John Scott Trotter & his Orchestra on 5th July 1941.



"Pataha Prince" the winner of the "Bing Crosby Stakes" in 1973 was trained by Robert Julian Frankel who is described as "one of the most successful and respected trainers in the history of thoroughbred racing" winning several trainer awards.  Robert Julian Frankel won several "Eclipse Awards", the year-end thoroughbreds racing awards for best trainer and he set earnings records, Grade 1 stakes victory records and others, also winning the Pacific Classic Stakes for a record 6 times.   

In 2008, a horse from Juddmonte Stud was named "Frankel" in honour of the famous trainer. The colt, son of the great racehorse "Galileo" and "Kind", was trained in Newmarket by the late Sir Henry Cecil, and was victorious in every one of his 14 races receiving the highest rating ever awarded by the British publication "Timeform".  However, it should be noted that unlike "Sea Bird", "Ribot", "Nijinsky", "Mill Reef", "Secretariat" and other great winners, "Frankel" did not tackle any of the longer races like The Derby, etc.

Via the link below, there is a full history of Del Mar on film including Bing Crosby speaking entitled "WHERE THE TURF MEETS THE SURF" and produced in 1990:



Below is a photo taken at another racecourse supported by Hollywood stars "Hollywood Park" (Bing's idol, Al Jolson, was a Director). The three persons on the right-hand side in the first photo below are moviestars Don Ameche, Hedy Lamarr & James Stewart. 



 
Bing & friends at Del Mar



 
Bing Crosby with co-founder Pat O'Brien addressing the racegoers at Del Mar in 1937




Celebrities and filmstars attending Del Mar Racecourse during the 1937 - 1940s & in the 1950s include Dorothy Lamour (gracing the winners enclosure in 1937), Dick Powell, Joan Blondell, Robert Taylor, Barbara Stanwyck, Jimmy Durante, Eddie Cantor, George Jessell, Hoagy Carmichael (composer of "Stardust" - recorded by Bing Crosby with the Victor Young Orchestra on Brunswick in 1931), Mickey Rooney, George Raft, Oliver Hardy, Gloria Swanson, W.C.Fields, Gregory Peck, Betty Grable and Jayne Mansfield

Bing Crosby sold his interest in Del Mar Racecourse in 1946. The following year, Bing lent his name to a horse-racing board game called "Crosby Derby" (similar to "Monopoly") advertised as the "Closest thing to a real horse race!  Packed with hours of fun and excitement! Everybody plays!".

After Bing Crosby had sold his interest in Del Mar Racecourse and the Binglin Stables, he was largely absent from the racing scene throughout the 1950s. However, his role in the movie "Riding High" (1950 ) allowed Bing to shift from actual racehorse owner to cinematic racehorse trainer.

Bing's wife, Dixie Lee, died on 1st November 1952 of ovarian cancer, Dixie Lee had been a partner in many of Bing's business interests.  The inheritances taxes were so great that Bing was forced to sell off all of the horses he then owned to meet these taxes. 

Just 2½ months before his own demise at the age of 73 after playing golf with three Spanish champions at La Moraleja Golfcourse just outside Madrid, Bing Crosby had made a nostalgic farewell visit to his former Del Mar Racecourse on 31st July 1977 to see the race that bears his name, the "Bing Crosby Handicap".  It was the first time that Bing had been back to his old racetrack in 30 years. Tragically, 16 days later after that final July visit, the young artist that Bing had once kindly praised years before, Elvis Presley, also died on 16th August 1977 aged only 42.

Columnist and foreign correspondent for the "Daily Racing Form" and American correspondent for the British "Sporting Life" daily paper, Alan Shuback, wrote in his book "Hollywood at the Races" that "Del Mar is a fitting tribute to Bing Crosby's enduring legacy as a sportsman and a showman".

In the sleeve notes to his book, Alan Schuback quotes Ed Sullivan saying in 1939 "Hollywood has gone nuts over horse racing, and by the same token racing has gone nuts over Hollywood.".  The author says "Horse Racing was so popular and influential between 1930 and 1960 that nearly 150 racing themed films were released in that thirty-year period" and in his book, he explores the relationship between the Hollywood film industry, the horse racing industry, and the extraordinary participation of producers, directors, and actors in the sport of kings and points out that the stars' presence at the track attracted the attention of eager photographers and gossip columnists, generating free publicity for their new films mentioning Louis B Mayer, Bing Crosby, Fred Astaire, Betty Grable and Don Ameche as all being major thoroughbred owners, while Mickey Rooney, Chico Marx and John Huston were notorious for their gambling losses.
Last edited by VictorM (Yesterday 3:30 am)