As promised (or threatened) I'll add a few snippets about DVDs issued over the past year that have caught, or been drawn to, my attention.

I have to be frank here and admit that I do not collect video material to anything like the extent that I indulge myself in audio, and whilst I go out of my way to get almost everything that comes along in the form of (these days) CD, this is not the case with DVD, and I have not sampled most of the items covered below, so this is really only a summary of what is on offer, and I cannot give any appreciation of the quality of the content.

=========================

First off there is ''Road To Comedy'' - a set of four Road movies - Zanzibar, Morocco, Singapore and Utopia, region 1, from Universal Studios, and of course co-starring Bob Hope and Dottie Lamour. Who can resist such fare, but who has not already got them?





=========================

On Blu Ray we have a reissue of the three ''That's Entertainment'' films, with Bing taking a share of the narration as well as appearing in short snatches from his two MGM films - ''Going Hollywood'' and ''High Society''.
An earlier version apparently consisted of four discs with ''extras'' whilst the reissue seems to have three discs, with no publicised ''extras'' though I have not personally sampled it. The soundtrack is alleged to be in 5.1 track surround sound but I am a little baffled as to how the musical films, mostly made in mono or at best in stereo, can possibly have genuine surround sound. The set is also on standard DVD.

=========================

Again on Blu Ray and stated to be exclusive to it, we have ''High Time''



Details here http://www.blu-ray.com/movies/High-Time-Blu-ray/45342/

=========================

I have just mentioned the creation of 5.1 surround sound out of mono tracks. Well how do you make a 3d image from a flat video image? That's what is claimed to have been done for ''Road To Bali'' in ''3D (Real-Side-By-Side''). This can only be viewed of course on suitable TVs, but the process is wholly artificial and the only comment I have seen (which opens with the words ''save your money'' is enough to discourage even casual further exploration.

=========================

Of particular interest to golfing fans there is ''Golf Mania''.



, which is described as ''a superbly entertaining collection of short films featuring golf legends and goofy golfers alike -- including Bing Crosby, Bob Hope, Sam Snead, Ben Hogan, Byron Nelson, W.C. Fields, Felix the Cat and more. The ideal Christmas gift for the golf lover in your life!. 9 vintage golf films: "Goofy Golfers Newsreel," "Golf Magic" (1948), "Follow Thru" (1940), "Rough But Hopeful" (1946) with dozens of Hollywood movie stars, "Golf" (1922) comedy with Larry Semon and Oliver Hardy, "Golfing with Bing and Bob" (1998), Bing Crosby's 6th annual pro-am golf tournament in "Don't Hook Now" (1943), "The Golf Specialist" (1930) with W.C. Fields, and "Faith, Hope and Hogan" with Ben Hogan, Bing Crosby, Bob Hope.''

At least one of the regular visitors to this board ought to be able to get swinging with that lot.

=========================

A nice collection from The Nostalgia Merchant to which Malcolm drew attention and titled - what else? - ''The Bing Crosby Collection''




How many differing ''Bing Crosby Collections'' can we cope with?
This particular one contains a number of TV shows including The Edsel Show, Ford Jubilee, several others as well as some Mack Sennet shorts. 6 discs. I'm sure this is great nostalgia fare for those in North America who remember seeing the originals on transmission, and I personally quite like those old Sennet shorts for all their ''corn''.

Malcolm gave details and links here http://crosbyfanworld.boardhost.com/viewtopic.php?id=402

=========================

Festival Films gave us ''On The Road With Bing And Bob'' - details here http://www.fesfilms.com/road.html.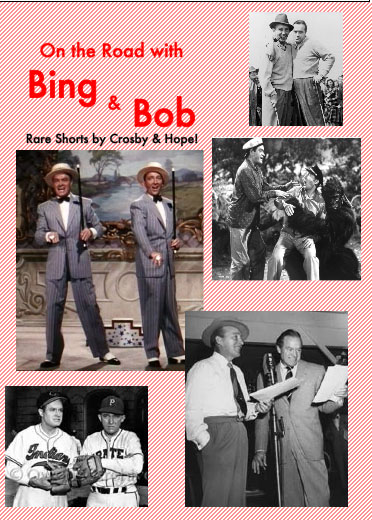 A little snippety, but very nice to have.

=========================

I see that Amazon are listing ''Dixie'' for pre-orders, for release late in January but there is no indication as to the extent of any possible editing.

Similarly ''Variety Girl'' is shown for January release. Bing made a brief cameo appearance though the publicity implies a starring role!